Hi Everyone!
Thanks for checking out my new website! I created this site so my family and friends could visit this site and check out new piccies of the family without me having to send out hundreds of emails with photos and waiting for terrific dial up to send them, so please check back regularly and I will change photos as much as I can!
In this site you will find photos of the boys, Mark and myself, Conor, Ronyn and Mason, and you will also find piccies of the family pets, our horses, birds, dogs etc, so feel free to have a sticky around, and let me know what you all think!
Luv
Simone x
Mason Jai Brear - Mason turned 3 on the 2nd Sept 10, and is a full on active child. He loves swimming, playing lego, playing Thomas trains, trampoline jumping, riding horses, chasing chooks and anything that is exciting!!!!!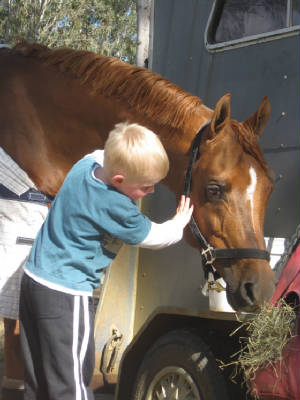 Mason with Khouros, his bestest friend 2010
Mason Jai Brear

Welcome to the World!

Mason Jai Brear

Born

2nd Sept 2007

Born - Ipswich Hospital at 3.44am

Fathers Day arrival!

Weight - 3500gr

Length - 53cm

Head circum - 35.5 cm

First smiles - 23rd Sept 2007

Conor's school level
Conor is in Grade 5 at Churchill State Primary School, a 15 min run from home. His teacher is Mrs Murray. His friends are Nelson, Chris, Thomas, and Jonathan. His report card for end of Semester 1 was pretty impressive, gaining a few Very High acheivements especially in Arts and sport, and maintaining Silver Level behaviour all year, allowing him to attend all school excursions and activities.
Ronyn's school Level
Ronyn is in grade 2 and is flying thru with ease. He has been and maintained gold level behaviour all year! His reading is exceptional! His friends at school are Zander, Jack, Gemma plus LOTS OF GIRLS! He is enjoying Tae Kwon Do with Conor, and will be starting Little Atheletics too this month!