Show results of Sacred Hill Arabian Horses - Click on this link
17th May 2012 - After a lengthy break from the show ring and riding, this Sat will see Simone and Khouros going back out in to the Arabian saddle ring, at the Qld Challenge Show... We have entered our stallion under saddle classes and we are looking forward to getting out there for the challenge show! Khouros suffered horrific injuries only a couple of months ago, but all has healed so well, after surgery and lots of hospital and care at home. I wasn't sure if I would have my "stallion" still in tact but here he is! So thankful for all the wonderful people that have supported me thru this awful period, onward and upward as they say! Let hope the next few months are nothing short of trouble free!
SHAH Gold Reflection has been sold to Nikki and Scott Shegog Vic, and will commence his show career with them later in the year. Khandeece has been sold to Manuela Zehnder of Gympie, and will be broken in later in the year. We wish you well with both these super horses and hope to hear of your journey together for many years to come!!!! Simone x
11/2/12 - RIP KHORVETTE - It is with great sadness that I announce the sudden and shocking passing of Khorvette yesterday. It was the most distressing phone call to get, and I want to send my condolences to Melissa Hoile and her family on their loss of this superstar boy. Khorvette will be sadly missed......
Aug 2011 - Long time since my last update.....so much has happened over the first half of the year....we competed at the Australian National Arabian Championships in Tamworth in March fulfilling one of my dreams to compete on a home bred horse, and what better one than Khouros himself! We had a great time, Mark and the boys came with me, and Dion Murray came too, and was a wonderful help to get Khouros and Khorvette ready for the show! Khorvette came home with the Reserve Australian Champion Anglo yearling exhibit, and Khouros came home with two very well deserved top 10s, he worked so hard for me, and did me proud! One moment at the Aussies was when his daughter, KHOUROSAH SHAH took out the prestigious CHAMPION ARABIAN MARE UNDER SADDLE AND CHAMPION AMATEUR RIDER, Sarah and Grace had an amazing show and we are so very very proud of this amazing team, Debbie, and Sarah have done an incredible job with this amazing girl, and you had me screaming like a mad woman outside when they did the announcement in the indoor arena! Tears rolling down my cheeks, I was so thrilled and excited and proud!!!!!! Love you guys!
Then we attended the Arabian Gala Event only competing with Khorvette, who won the CHAMPION ANGLO ARABIAN EXHIBIT which was a huge buzz for Helen and I, we are very proud of our boy!!!! Khouros also competed at the Masters Games in May, winning a gold and a silver medal in the dressage! GO THE ARABIANS!
Winter has been a quiet one, and have only recently competed at the YouAm11 at Laidley, with Khouros and Almontasir Desert Starr. Khouros competed under saddle winning his stallion under saddle then taking out Reserve champion Arabian under saddle, 1st in the BP hack class, 1st in a huge combined hunter class, and a 3rd in the Novelty event which included barrels, a jump and bending poles.
Next shows on the calendar is Gold Coast Show on the 4th Sept, and the Arabian HOTY show on the following weekend.
CONGRATS TO JOANNE TRIGG AND CHELLEASON KISSES OF GOLD CHAMPION ARABIAN PONY FEMALE AT THE VICTORIAN CLASSIC 2011
WELL DONE!!!!!!
Proudly owned by Joanne Trigg
Chelleason Kisses of Gold - Champion Arabian Pony Female VIC Classic '11
Jan 2011 - HAPPY NEW YEAR! Another year has come and gone AGAIN, it seems to happen so fast! Had a wonderful year with the horses, got some 3 stunning babies from our foal crop, and overall its been a full on exciting year. Many changes in the stud, and work. But the start of 2011 saw the most devastating floods in Qld, with an inland Tsunami in Grantham, Withcott and massive flooding in Toowoomba central. Who could have possibly imagined what devastation was ahead for all these areas, with homes, and lives lost. Ipswich and Brisbane and all surrounding areas suffered and the clean up has begun with so many Qlders and other Australians donating their time, money, and items of need to these areas. Its times like this that really pulls a nation together... I am proud to be an Australian........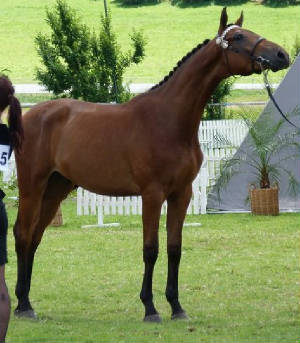 Platinum SHAH owned by Lauren Temple
Oct 2010 - Top of the Range was a great show!!! My family came with me to support me, which was wonderful, Lauren Temple, Hilary Hainsworth and Dion Murray also came. Lauren brought her wonderful Arabian WB gelding, Platinum SHAH who looked truly superb, and very tall! HAHAHA! Khouros was shown in ridden and also competed in the halter with me! Which he showed what he is made of and showed his arse off for his mum, which gave ME goosebumps! He won his class of which I was thrilled!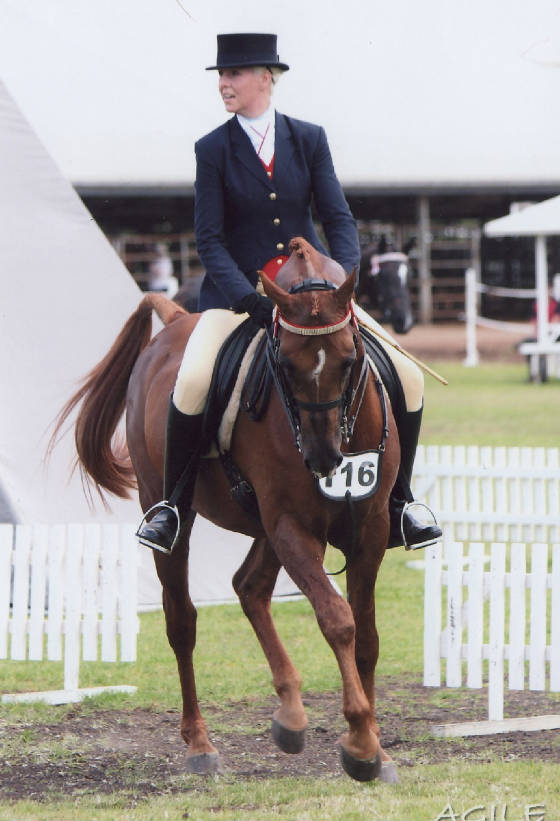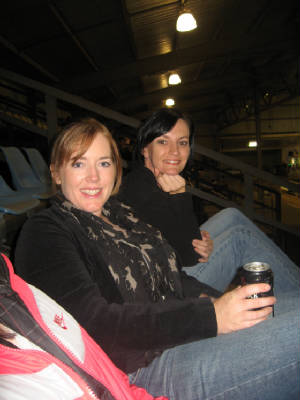 Lauren and Amanda enjoying the night finals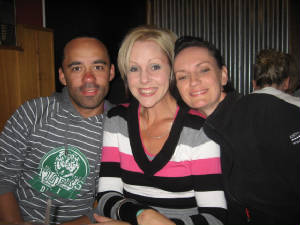 Dion, Simone and Amanda having dinner at Hogs Breath Toowoomba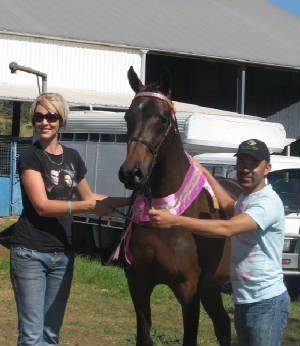 Simone, Diamante and Dion
May 2010 - Qld Challenge was a fantastic show, I can't believe another Challenge has come and gone! I had a wonderful time up at Toowoomba with my dear friends, Amanda, Dion, Lauren, Hilary, Helen and Barry, and Katherine Hopkins. Lots of fun and laughs were had! Our horses had a successful weekend and we are very proud of them all! Thanks to everyone for your help to make this weekend flow smoothly, much appreciated yet again! Love ya's all! Results are in the Show results page at the top of this page.
Feb 2010 - Show season is fast approaching and we are starting to get the team organised for the season. Horses are in, foals weaned, and riding has recommenced. Very exciting! Lessons will commence this weekend for riding! Back to hard work!
I also would like to take the time to congratulate everyone with Khouros progeny out there competing and having fun! There have been some awesome results for SHAH bred and Khouros progeny and we are thrilled to hear of everyones successes and stories.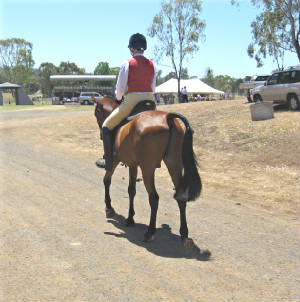 Amanda on her way to her first ridden class on her boy, Zaffiro
27th Oct 09- Home from Top of the Range Arabian Event! What a crazy weekend it was! I was so organised leading up to it, and riding mornings at 5am and having lessons, and gear was packed well in advance, float and car all packed, but my car packed it in the day before we were leaving and took most of the day to get fixed so we lost 5 hours in preparation nad packing! Finally got everything done, and Amanda, Lauren and I hit the road nice and early Sat morning, with Khouros and Zaffiro SHAH on board. We arrived on time, Amanda went off to work Zaf to get him ready for his 12pm start in his first ever Arabian ridden show. Well what can I say??? Zaf and Amanda looked amazing and he was a wonderful boy, working so well and handling the whole "show" atmosphere like a pro! They came away with a 4th and a 6th place in their ridden events. And Mandy was one proud mum! Sat night saw the start of the Gala Event, the halter/ridden class with Khouros and I. He strutted his stuff in the halter event, but unfortunately was full on EXCITED from the halter class and blew his nut for the ridden, and we didn't even get to do our workout much to my dissapointment. I had a wonderful bunch of people supporting me, and making me feel better, I felt like I had seriously let him down, and felt terrible! I managed to get back on and work him in the marshalling area, and got what I wanted out of him.
The next day was the purebred ridden classes, and deriv halter. We helped Helen Wilson and Barry Bell get their gorgeous "Bracknell Lookatme" filly ready (Looking Taarific) for her class of top Arabian pony fillies, she got 3rd and put on an amazing show, not breaking from her massive ground covering trot.
Next was Khouros in the saddle ring! He got a 1st place in the nov. stallion class and then did a fantastic workout to take out Champion Novice Purebred under saddle! Judge, Graham Smith, commented on his wonderful nature, and he worked just like he would want a novice horse to go. So I was very emotional by this big win, especially after the Saturday night dramas! So we ended on a great note, had heaps of fun, and laughs and drinks!!!!! Show season is now over for another year, Khouros is busy breeding now, and he has become dad again to some gorgeous foals. We have lots of exciting plans for 2010 so bring it on!
We also welcomed to our stud, Hollyford Park Symphony from Eminem Arabians on a lease. She is being bred to Magnum El Chall for a 2010 foal.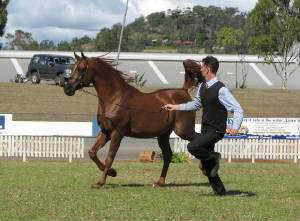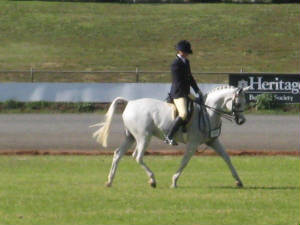 Qld Challenge Show Team 2009
Khouros
Top 5 Senior Stallion
Almontasir Desert Starr
1st Senior Gelding over 11yrs old
8th Dressage
3rd Novice Bridle Path Hack
6th Adult rider 30-40 years
3rd Nov Purebred Gelding under saddle
5th Intermediate Gelding under saddle
Diamante SHAH
Top 5 AWB yearling filly
Platinum SHAH owned by Lauren Temple
2nd AWB colt/gelding under 1 yrs
Reserve Champion AWB Gelding
3rd Amateur Handler Deriv Gelding any age
Davinchi Owned by Tottenham Arabians
2nd 2yr old Purebred Arabian Gelding
Pan Pacific Arabian Showcase 18th-19th April
SHOW TEAM
DaVinchi owned by Tottenham Arabians, Helen Wilson
2 year old Intermediate Gelding
1st / Reserve Champion Intermediate Gelding
Almontasir Desert Starr owned by Sacred Hill Arabian Horses
Senior Gelding 7 yrs - 12 yrs - TOP 5
Pan For Gold - 8th Place
Intermediate Gelding Under saddle - 1st place
Khouros (exp/imp NZ) Owned by Sacred Hill Arabian Horses
Senior Stallion 7yrs - 12yrs - Runner up
Tulgon Applause Owned by Tulgon Estate Amanda Lugton
Anglo Arabian Exhibit 1yr and Under - 1st place
Platinum SHAH Owned by Lauren Temple
Arabian Warmblood Exhibit 1 yr and under - Top 5
Diamante SHAH Owned by Sacred Hill Arabian Horses
Arabian Warmblood Exhibit 1 yr and under - Runner Up
12th Feb 2009 -First of all, Happy NEW YEAR! Bit slow for me to say that, but I realised I hadn't posted anything since TOTR. 2009 has started off bright and sunny for us so far, many plans underway, lots to look forward to, and I can't wait! Almontasir is now officially mine, which I am just stoked about! Our first show is this weekend so I can't wait to have him out and about. 2009 will also see a fabulous show team for SHAH, which we are very excited about! More on that as shows approach. We have our first pally baby due in Aug too so we can't wait to see what comes of that cross. Zaffiro is off to be broken in end of Feb with Glenn Pearce, so that is very exciting for Amanda Lugton, going to be very exciting to see these two under saddle together in the not too distant future.
21st October 2008 - The past couple of months have been amazing! Starr and I have been doing so well, he won Reserve Champion Intermediate Purebred HOTY at the Arabian HOTY, and also a Top 5 in the open Gelding, and we took out the Champion overall Smartest Purebred on Parade!!!!! YAY! WE ROCK! We recently competed at the PRARG ribbon day club day and took out Champion Rider of the Club, 1st presentation, 1st Novice Hack and we won the Christine Thompson Award, so I was thrilled yet again with Starr, he is as his name says a "STARR"! Top of the Range was on last weekend and we had another good weekend, Starr won his gelding class, and took out Reserve Champion Senior gelding award, with me on the lead, (VERY proud! DID YOU SEE THAT STAND UP??) So I was over the moon with us both. We then prepared for the Gala Event, and after a couple of hours of being in the ring, we walked away with a 9th out of 26 horses so I am blown away! GO STARR! We rode the next day for a 2nd place in a large Novice gelding class, so yet again, I was smiling.
Zaffiro SHAH won his class, and then took out Reserve Champion AWB exhibit. Diamante SHAH looking extra spesh in her pink bling browband, showed the house down too like her big brother, and won her age class. Both fillies were stunning that were in the ring, so I was very honoured to have won. So overall another successful show, my first TOTR in the last few years too! Bring on 2009!
8th September 2008 - The last couple of months have been fabulous! Almontasir Desert Starr and I are going great guns, winning Champion purebred under saddle at Mt Gravatt, and we competed at our first dressage comp, winning a 6th and a 9th placing. So I am thrilled! We are competing at the 2008 Arabian HOTY show this weekend coming, and also the Spring Affair. Top of The Range will be next on our show calendar.
2nd Sept saw Mason celebrate his 1st birthday too, my baby is growing fast!!!!!!!!!!!!!!! HAPPY BIRTHDAY MASON!!!!!!!!!!!!!!!!! XXX
Breeding season has begun and the mares are going to be arriving soon, much to Khouros' excitement after last years wipe out thanks to EI.
Congratulations to Chelleason Arabians on the sale of Chelleason Dreams of Gold (Khouros)to NZ and Chelleason Gold Emblem (Khouros) to W.A.
30th May 2008 - Heaps has happened here since my last post, I competed at the PRARG dressage funday, we had a great day, Khouros was super, first time out in over a year, and still a gentleman! We were working towards the Qld Challenge only for our plans to come to an abrupt halt, on the 11th April I had an accident from Khouros, I have no memory of the accident, I suffered concussion and a broken collar bone, I am now finally home and healing but its been another hard road for me! BUT onward and upward I always say! So I went to the Qld Challenge beginning of May to watch Amanda Lugton compete with Zaffiro, he looked amazing! And has grown into a stunning gentleman, so elegant and pretty! Amanda and Zaf are going to cut a fine pair out there in the ridden ring real soon! Also got to cheer on Lauren Temple with her buckskin partbred gelding, Sierra Lodge Quiksilver. Ace looked fabulous and MAN can he stand up (when he is concentrating anyway! HAHHA) Thanks to Amanda for helping Mark on the horses to prep them for this show, I know how hard its been for you both and its wonderful to see the end result! Congrats to everyone else at the show, I got to witness most classes, (there is a first for everything!) and there were MANY wonderful horses! As for the rest of show season, I have some plans to get the babies out fingers crossed! I also still plan on having Khouros out in the ridden once I am fully healed. Chaswyck Priscilla is leaving for her new home in the next couple of weeks, she is due to Khouros Oct, so that will be exciting for her new owners!
2nd March - Looks like EI is finally starting to move along, and possibly be eradicated! Shows are starting to look promising again, and we have things to work towards now! Khouros has commenced saddle work again, and going great guns, show stock has been moved in, rugged, and are now back in full care and work. Our first comp will be the PRARG fun day in March which is a club dressage and hack day, so can't wait to go to that!!!! Foals are growing fast and will be weaned this week, YAY!!!
-Sales News-
Congratulations to Lauren Temple Qld on the purchase of Khouros x Christoph Amethyst embryo for 2008 foaling. This is a very exciting sale for all concerned and we look forward to the birth of this foal, this foal will be a full sibling to Zaffiro SHAH and Diamante SHAH. We wish Lauren all the best with her pending arrival and we look forward to your future together. WELCOME TO THE SACRED HILL FAMILY!!!!!!!!!!!!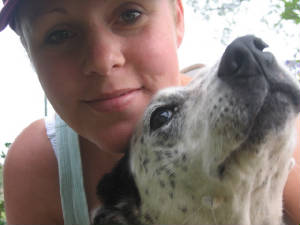 RIP SPRITZ We will miss you..............
9th Nov - The 7th and 8th of November has been a very sad couple of days here at Sacred Hill. On the Wed, we saw the passing of our much loved purebred Filly SHAH Annah. Her shoulder finally took a turn for the worse and the decision was made to put her to sleep. Then on the Thurs we said goodbye to our special dog, Spritz, at the age of 16. What a terrible loss, she will be sorely missed here by her daughter Seal, (who is 15) and by me and my family. RIP my beautiful girls.................
22nd Oct - At the civilised hour of 5.30 pm, Amanda Logton's TB mare, Lucy gave birth to a sublime bay colt. What a stunning boy he is and Lucy did a fab job! Congrats to Amanda on her beautiful KHOUROS baby! Can't wait to see him hit the showring!!!!!!!
This is the first Anglo by Khouros in Australia!
11th Oct - Our gorgeous Warmblood mare, Christoph Amethyst, gave birth to her second foal to Khouros. She was born 6th Oct and she is a brown bay filly with a star, and has been named Diamante SHAH. We expect great things from this filly! 9th Oct saw the birth of Chaswyck Priscilla's 3rd foal, a stunning chestnut going grey colt, by Ibn Sterling Shaklan, and we got everything we expected and more from this cross! Suhayl SHAH has all the type, conformation, movement, and presence with a sweet nature to boot. We are very excited about this cross!
24th Sept - Well foaling season is upon us now, and so far there has been some GORGEOUS babies born by our boy, Khouros! Please check Khouros' page for photos of his new babies! We are wrapt with what he is producing, and look forward to seeing these babies in the showring in the not too distant future.
Equine Influenza is affecting everyone, so due to it spreading in Qld we are unable to take mares at stud this season. So far our stud is safe from the virus, so we are looking forward to our foals being born in the coming weeks without any threat so far of EI. We hope everyone else is safe from this and if you have got it on your property, I hope your horses all recover quickly.
2nd Sept - Welcome to the world - Mason Jai Brear! What a fabulous Fathers Day surprise for Mark, and what a wonderful birth! Mason was born by natural birth at 3.44am Sunday morning, and was greeted to the world by his mum, dad, and two older brothers, Conor and Ronyn. Thanks must go to my sister in law, Tanya for all her help coming to the hospital twice at crazy times to help care for my two boys, thank you! You made the birth that bit easier for me knowing you were taking such good care of them for me.
16th August - I would just like to send out a big congrats to the new owners of two of our horses who we had originally sold, firstly Soroukh SHAH, a big bold chestnut colt by Khouros has found a new home at Gatton, they are thrilled with their new boy, and it was great to chat to them! And I have just been speaking to the very happy new owner of Marja El Kalmir, my super star saddle stallion by Amir El Shaklan! Its wonderful to know both these boys have awesome homes and will go on to do great things! Congrats to you both and please keep the updates coming in, I love hearing how our horses are going for their new owners. Kalmir was a star under saddle a few years back, and Michelle is having such a ball with him being such an educated boy, and so easy to get along with. Its just super to hear!
On the home front, My baby is due in a matter of days now, so I am resting and waiting!!!!!!! Mouse has been slowly getting groomed and stabled back to his showy self, so when I am able to, I will be jumping back on! Bring on 2008 for me and the Mouse! Our first foal for the season will be due 6th Oct by Ibn Sterling Shaklan out of Chaswyck Priscilla, I can't wait to see this wee baby! Fingers crossed for my filly! :)
18th June - It is with much excitement, that I announce the sales of two of our youngsters! Shai'lan SHAH our stunning black colt has been sold to Nikki Henneken of Touens Park Arabians, Victoria, he will be shown and campaigned extensively in Victoria, we wish Nikki all the best with this gorgeous colt! It will be very sad to see his sweet face go! He will be missed!
Also Khamistah SHAH is being relocated to Victoria to her new owner, Tania Evans. Tania has been wanting to own a Khouros baby for a long time, and now she owns this special filly, who will go on to compete in Vic, carrying the flag for her sire and her dam, Redwood Lodge High Society. Kham will be sorely missed but its wonderful when you know they are going to the best of homes! Congrats to you both on these sales and we wish you all the luck with them both!
Breeding season is nearly upon us again, and we are busting to see the Khouros babies this season! You will see his page getting updated as the babies arrive, so keep checking back! We are hoping for another successful breeding season for Khouros, with a few AI bookings already. Khouros will begin his saddle training again soon with him competing back under saddle in 2008.
15th May - All our shows are over for this season, horses are turfed out for a well earned holiday! Qld Challenge was a very successful show for us, Zaffiro SHAH won for his mum 3rd in the huge amateur class, showing his amazing trot and stood up really well! He got 2nd in his open AWB class, with Ben Carter Mouat showing him brilliantly. Sat night saw a different night of entertainment for us at Toowoomba, Mandy and I hit the town and got to watch the best band in the world, ESKIMO JOE at Rumours nite club at Toowoomba! We had a great night out! Much better than hanging at the showgrounds! Sun afternoon we witnessed an INCREDIBLE showing by the man himself, KHOUROS! WOW can that boy show! I am the proudest breeder in the world knowing I own such an amazing showman, stallions just don't show like that anymore so its so wonderful to have one that gives his viewers goosebumps! He took out 1st place in his stallion class, and took out the Reserve Champion Stallion honour! WOW! We are just thrilled to BITS! Thanks again goes to Doyle for managing to keep up with him, and showed him to perfection again!
Also congrats to Chenoa Hatchman and her gorgeous big chestnut boy, SHAH Kaliforniaa, who had a VERY successful Qld Challenge this year. Kaliforniaa is a 5 yo Quarab gelding by Marja El Kalmir out of Folly's Pride, and has been competing with his youth rider Chenoa, and we are very proud to see her doing so well with him! PHOTOS BELOW OF BOTH ZAFFIRO AND KALIFORNIAA!!!
On ANOTHER NOTE - NEWS FLASH! Khourosah SHAH (Khouros x Chaswyck Priscilla) has just taken out SUPREME champion ARABIAN exhibit at the Boonah show for her owner Debbie Hancock, competing against some top competition! She ALSO went on to take out Champion Purebred Ridden (not bad for a 3 year old girl!) and also competed successfully in the open ridden hack classes, ridden by Debbies daughter, Sarah. Congrats to you both on your HUGE SUCCESSES! We are very proud of you!
So now I am looking forward to a few months off, horses are too, we will be enjoying our family time, and our new baby in Aug, BUT as of 2008 I am operating again my show conditioning and preparation centre at our stud, and I am eagerly looking forward to getting back into the saddle with Khouros, and maybe with a NEW ADDITION! (Oopppps don't say that, someone might take that as gospel and start a rumour! HAHAHA!)
15th April - Pan Pacific was a successful show for us! Zaffiro SHAH went out with his mum, Amanda, to get 2nd place in the AWB under 2 yrs, and Top 5 Amateur handler Derivative Male, up against some well seasoned show horses. Khouros claimed CHAMPION STALLION!!!!!!!!!!! We were thrilled to bits! Khouros showed up a storm with Richard Sharman, to win his class, and then to take out the Champion title under a very appreciative crowd! I proudly took my boy out for the Supreme line up, and he made me feel like I had wings, my pregnancy belly didn't even hinder me at all! Although we did not win Supreme, I was on cloud nine with my champion title, I have never won a champion at the Pans so it was a buzz to finally achieve that! A big thanks has to go out to the committee for an incredible show, to the sponsors, organisers, volunteers, and judges and stewards, the trophies were incredible too, it was lovely to see the return of the plaques! Congrats to everyone that did well, and we are looking forward to the next show, the Arabian Gala Event!
8th April - JA KHUDOS has been sold to the USA! Well this is every breeders and stallion owners dream.....to be recognised in an international sale! Angela Rogers sold her dream colt, by Khouros out of the glorious Redwood Lodge Estonia, JA Khudos, to a stud in the grand ole USA! What an incredible achievement for a breeder, congrats to Angela! We are equally chuffed as its spreading the name KHOUROS overseas and we are thrilled to have been part of this exciting transition in our stud by sending Khouros to NZ to be with Angela, it has become one of our major highlights in our stud and breeding program, and we are so proud of the achievements of all the Khouros babies over there for Angela and the visiting mares babies. Congrats must also go to Lee Cox of Euralea stud for the lease of Estonia to allow this breeding to be possible in the first place.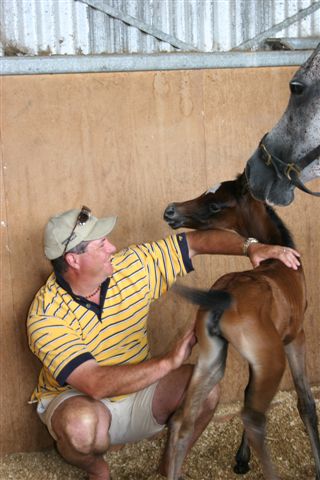 SHAH Jullique with Michael Greene 28th Dec
23rd March 2007- Well its with tears in my eyes that I announce on our site that our gorgeous grey filly by Gai El Jullyen out of The Palms Monique, SHAH Jullique or Baby Jai as she was lovingly known, passed away at the beginning of the week on my return home from Sydney from the Australian Arabian National Championships, Baby Jai broke her leg thru the night and was found in her paddock early Mon morning, so with the loving hugs and whispers in her ear from Mark and I, our beautful baby Jai was laid to rest, out of pain, and loved by many on her passing. She was a one in a million baby and we will never be blessed with such an incredible personality again, she lit up the paddock and brought joy to all that met her, with her infectious personality. We are devastated, and as a small stud we felt her loss more than anything, We miss you Jai and we hope you know how much we loved you.........
On a lighter note, Mark and I are expecting our 3rd child in Aug . We are very excited about it all, and look forward to seeing everyone thru the show season with Khouros coming back into the halter ring again, and then back under saddle next season.
Contact us---
New address Lot 1 MS 460 Watsons Rd Ripley Qld
--Ph--0411 310 508